Gebruik maken van groene stroom, kiezen voor klimaatneutrale huizen en elektrische auto's, korter douchen en wassen op een lage temperatuur. We doen er alles aan om duurzaam te leven en toch vliegen we overal heen. Wereldwijd neemt het aantal vliegtuigreizigers enorm toe en er wordt geschat dat in 2035 twee keer zoveel mensen het vliegtuig nemen als nu. Luchtvaart is de snelst groeiende bron van broeikasgasuitstoot. Hoe kunnen we dit wereldwijde probleem oplossen of verminderen en wat zijn duurzame alternatieven?
Eén huis duurzaam verwarmen met warmtepompen en groene stroom in plaats van aardgas voorkomt de productie van 1.000 kg CO2 per jaar. Dit klinkt super, maar een enkeltje naar Los Angeles produceert ook 1.000 kg CO2-uitstoot per passagier. We investeren veel geld in duurzame ontwikkelingen in huizen, industrie en wegtransport, terwijl we het positieve effect hiervan op het klimaat om zeep helpen door met z'n allen overal heen te vliegen.
Het aantal reizigers van vliegtuigen neemt wereldwijd enorm toe. Volgens de internationale luchtvaartorganisatie IATA zullen rond 2035 twee keer zoveel mensen het vliegtuig nemen als nu, wat uitkomt op 7,8 miljard mensen. Paul Peeters, vliegtuigbouwkundig ingenieur en onderzoeker aan de Academie voor toerisme van hogeschool NHTV in Breda, zegt dat wanneer we zo door blijven gaan, de luchtvaart in 2070 evenveel zal uitstoten als de wereld in totaal mag uitstoten om het klimaatakkoord van Parijs te halen. 90% van het vliegverkeer is aan het toerisme te wijden.
De luchtvaart is buiten het klimaatakkoord van Parijs gehouden en er is afgesproken dat de luchtvaart het probleem zelf gaat oplossen. De industrie doet nu onderzoek naar motoren die zuiniger zijn en naar alternatieve brandstoffen. Echter is Peeters van mening dat het helemaal overstappen op biobrandstof, geen groot verschil gaat maken in CO2-uitstoot. Terwijl je voor biobrandstof wel een kwart van het oppervlak van Europa moet gebruiken om biobrandstoffen te produceren. Daarnaast zullen technische verbeteringen ook niet veel verschil maken in de CO2-uitstoot, omdat vliegtuigen al zo zuinig mogelijk ontworpen zijn. Elektrische vliegtuigen zullen er niet voor 2080 komen, omdat de efficiënte batterijen die hiervoor nodig zijn nog niet bestaan. Volgens Peeters kan zelfs als de vliegtickets met 200% verhoogt zouden worden, het Akkoord van Parijs niet gehaald worden.
Volgens Peeters is er wel een oplossing voor dit wereldwijde probleem. Hij vindt dat CO2-uitstoot aan landen toegerekend dient te worden, wat momenteel niet gebeurt. Daarnaast moeten vliegvelden kleiner worden, in plaats van groeien. Als overheden ervoor kiezen om de luchtvaart te laten groeien, moeten zij ervoor zorgen dat op andere gebieden extra CO2 wordt bespaard. Zo kan een overheid er bijvoorbeeld voor zorgen dat er minder staal, vlees of kunstmest geproduceerd wordt. Volgens Peeters is de beste oplossing wanneer de wereld afspraken maakt over de hoeveelheid vluchten die zijn toegestaan en het aantal vliegvelden wereldwijd wordt verminderd. Maar eigenlijk is er volgens Peeters maar één oplossing om de klimaatdoelstellingen wel te halen en dat is minder of niet vliegen.
Er wordt geen belasting of accijns geheven op vliegtuigbenzine en op vliegtickets zit geen btw. Dit is een keuze van de politiek. Wanneer kerosine evenveel belast zou worden als autobenzine, zouden vliegtickets zeker 30% duurder zijn. Dit is een reden waarom een treinticket in veel gevallen duurder dan of even duur is als een vliegticket.
Er moet, naast het milieuaspect, een reden zijn voor reizigers om de trein te pakken in plaats van het vliegtuig. Wanneer de trein sneller en goedkoper is dan het vliegtuig, bestaat er een grote kans dat een reiziger de trein boven het vliegtuig verkiest. Het zou helpen als er een hogesnelheidsnetwerk wordt aangelegd in Europa, zodat de reistijd voor veel bestemmingen korter wordt en zelfs korter wordt dan een vliegreis. Hierdoor kan ruim een kwart van het totale aantal vluchten van en naar Schiphol worden geschrapt. Dit gaat echter nog een lange tijd duren, dus het beste om nu te doen is: niet of minder vliegen. Kies voor de trein naar een Europese stad in plaats van het vliegtuig of ga met de auto op vakantie. Wanneer je ervoor kiest om met de auto op vakantie te gaan, kies dan voor een zuinige auto en deel deze met zoveel mogelijk mensen. Wanneer je een auto deelt met 4 personen, wordt de CO2-uitstoot lager per persoon.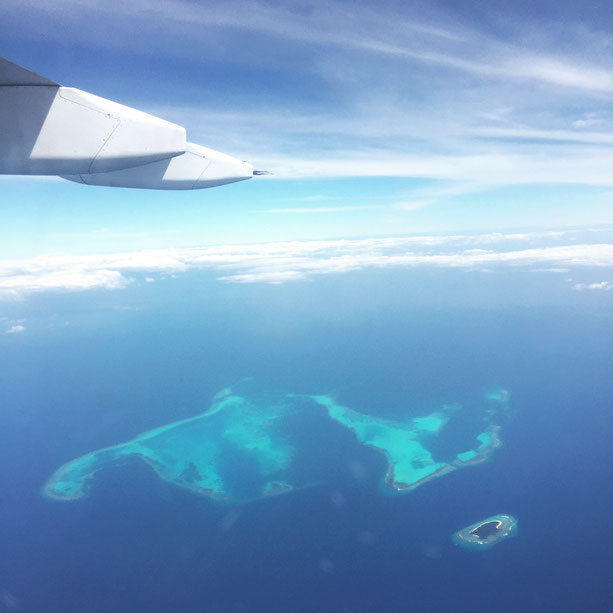 Kun je er echt niet omheen, probeer dan de CO2-uitstoot die je produceert met je vlucht, te compenseren in je dagelijks leven. Ook kun je projecten steunen die bomen planten, bossen beschermen, windmolens bouwen of duurzame landbouw toepassen in ontwikkelingslanden. Met deze projecten zorg je ervoor dat CO2 uit de lucht wordt gehaald. Bomen halen CO2 uit de lucht en zetten het om in zuurstof en biomassa (zoals hout, blad en wortels).
De volgende projecten kun je steunen:
Gold Standard is een betrouwbaar keurmerk voor projecten waarmee CO2-uitstoot wordt gecompenseerd.
In onderstaand schema geven we je een duidelijk overzicht van de CO2-uitstoot per bestemming en vervoermiddel. Onderstaande geldt voor een vertrek vanuit Amsterdam.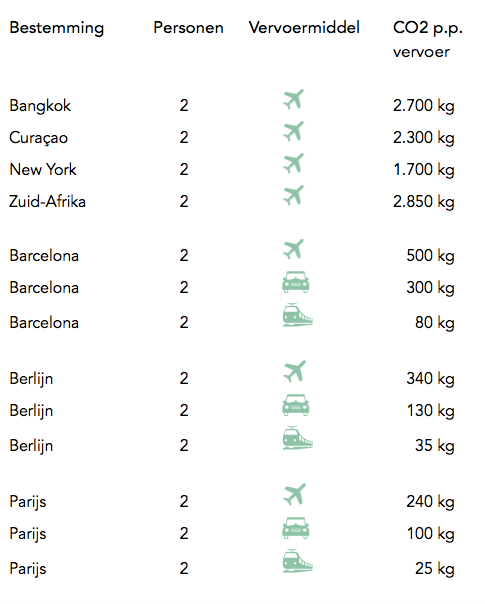 Uit bovenstaand overzicht ben je te weten gekomen hoeveel kg CO2 je uitstoot met een bepaalde vakantie. Maar waar kun je de CO2-uitstoot mee vergelijken? Check het hieronder!
Het CO2-uitstoot verschil tussen de trein en het vliegtuig naar Barcelona, staat gelijk aan een jaar geen vlees eten (460 kg CO2). De CO2-uitstoot van een retourticket naar Bangkok staat gelijk aan zes jaar lang geen vlees eten. En de CO2-uitstoot van je retourticket naar New York staat gelijk aan twee jaar plantaardig eten. Een jaar plantaardig eten bespaart 850 kg CO2-uitstoot. Met een retourtje naar Bangkok stoot je 2.700 kg CO2 uit. Dit staat gelijk aan 108 keer met de trein van Amsterdam naar Parijs en weer terug.
Wanneer je ervoor kiest om met de trein naar Berlijn te gaan in plaats van met het vliegtuig, bespaar je 305 kg CO2-uitstoot. Kies je er toch voor om met het vliegtuig te gaan, dan moet je om je uitstoot te compenseren bijna 3,5 jaar maximaal 5 minuten douchen per keer. Je bespaart namelijk 90 kg CO2-uitstoot als je een jaar lang maximaal 5 minuten doucht per keer. Wanneer je de was consequent op 30 graden draait in plaats van op een gemiddeld wasprogramma scheelt dit 23 kg CO2-uitstoot per jaar. De uitstoot van een retour vliegreis tussen Amsterdam en Barcelona staat gelijk aan bijna 22 jaar de was op 30 graden draaien in plaats van op een gemiddeld wasprogramma.
CONCLUSIE:
Vlieg minder en het liefst helemaal niet, kijk naar alternatieve bestemmingen en vervoermiddelen en kom je echt niet onder het vliegen uit, compenseer je CO2-uitstoot dan in je dagelijks leven.