Sinds het eind van de negentiende eeuw gebruiken wij plastic. Maar pas sinds 1950 is het gebruik van plastic echt op gang gekomen. Dit klinkt niet heel lang geleden, toch hebben we al 8,3 miljard ton plastic geproduceerd, waarvan ruim 6,3 miljard ton afval is! Van die 6,3 miljard ton afval is er 5,7 miljard ton niet gerecycled. Volgens onderzoek van de Verenigde Naties verdwijnt er elk jaar zo'n 8 miljoen ton aan plastic in de zee. Het plastic dat in de zee terechtkomt is voornamelijk afval dat op het vasteland wordt weggegooid of wordt gedumpt in rivieren. Dit afval wordt vervolgens door de wind en het water mee de zee ingenomen. Zuidoost-Azië is de grootste vervuiler als het om plastic gaat.
Wij spraken mensen die deze zomer in Bali en Cambodja zijn geweest en wij waren benieuwd hoe zij de plastic vervuiling op deze plekken hebben ervaren. Wij hebben hen gevraagd naar hun ervaringen op het gebied van plastic vervuiling en de manier waarop de desbetreffende landen bewoners en toeristen bewust maken van dit probleem en welke oplossingen zij bieden.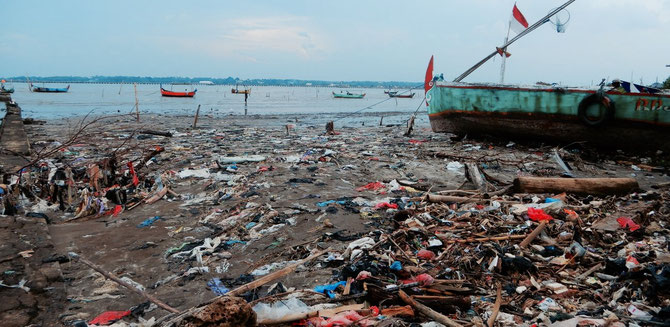 Bali
Bali is een favoriete vakantiebestemming voor veel toeristen. Echter kwam het mooie eiland de laatste maanden vaak slecht in het nieuws, door de enorme hoeveelheden plastic die op het strand en in de zee lagen. De Britse duiker Rich Horner kwam tijdens het duiken bij Bali meer plastic dan vis tegen. Klik hier om zijn ervaring te zien.

Gelukkig zijn er veel goede initiatieven op het eiland, die bewoners en toeristen bewust maken van het probleem en hen leren hoe ze dit probleem kunnen verminderen en oplossen. Zo worden er verschillende 'beach clean ups' georganiseerd, waar zowel toeristen als bewoners aan mee kunnen doen. Veel hippe bedrijven en merken organiseren dit, waardoor ze jongeren en toeristen bereiken en bewust kunnen maken. Daarnaast maken verschillende grote influencers dit bekend via hun social mediakanalen, zoals in onderstaand voorbeeld. De organisatie 4Ocean heeft haar hoofdkantoor op Bali en maakt met haar teams en de lokale bevolking de stranden schoon. Ze maken van het afval dat ze vinden armbandjes en verkopen deze aan consumenten. Met de opbrengst van de verkoop, wordt alles gefinancierd.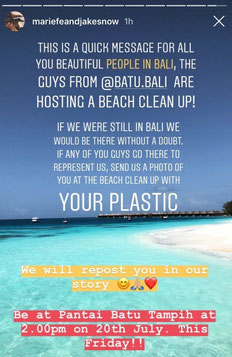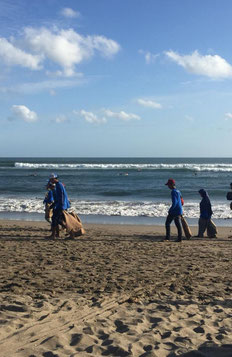 Naast de 'beach clean ups', zijn er verschillende merken die zich bezighouden met alternatieven voor plastic, om het plastic afval te verminderen. Zo maakt het bedrijf Avani verpakkingen van hernieuwbare materialen. Ze maken 'plastic' tasjes van cassave, die bij het papier gerecycled kunnen worden, maar ook biologisch afbreekbaar zijn. Daarnaast maken ze wegwerp bestek, bekers, bakjes en rietjes van maiszetmeel, die composteerbaar zijn. Op Bali worden meer dan 30 miljoen plastic flessen per maand gebruikt. Om dit tegen te gaan is het merk Bottles for Earth opgezet. Zij verkopen roestvrijstalen drinkflessen en proberen daarmee mensen bewust te maken van het plastic probleem.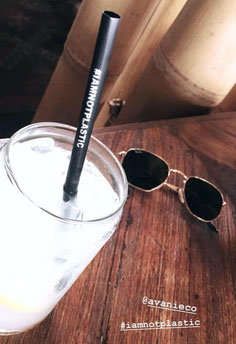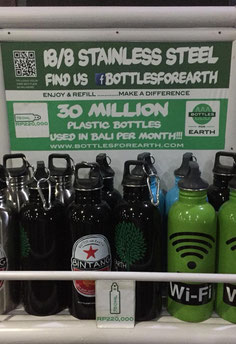 Cambodja
In Cambodja wordt pas sinds 20 jaar gebruik gemaakt van plastic. Bananenbladeren en andere biologisch afbreekbare materialen diende als 'plastic zakjes' of verpakkingen waar de bevolking op de markt haar spullen in mee nam. De bevolking was gewend om deze 'plastic zakjes' in de natuur te werpen, en dat leverde weinig problemen op omdat dit afval verging in de natuur. De gewoonte om het afval weg te werpen in de natuur is nooit veranderd, alleen de biologisch afbreekbare materialen zijn nu veranderd in plastic verpakkingen. Dit heeft ervoor gezorgd dat de Cambodjaanse natuur vol ligt met plastic.
Er heerst veel armoede in Cambodja en het percentage van de bevolking dat niet naar school gaat is hoog. Een groot deel van de bevolking is zich niet bewust wat voor schade (plastic) afval de natuur kan aanrichten. Door de combinatie van weinig afvalbakken en de geringe kennis van de bevolking op dit gebied, belandt het plastic afval vaak in de natuur. Daarnaast wordt het plastic afval dat wel verzameld wordt, door de bevolking vaak zelf verbrand.
Doordat er in Cambodja slechte drinkwatervoorzieningen zijn, is het voor de bevolking en het toerisme noodzaak om gebruik te maken van plastic waterflessen. Hierdoor blijft het gebruik van plastic flessen en de plastic vervuiling bestaan. Uit onderzoek van Fondiazone ACRA wordt er in Cambodjaanse steden 5,5 plastic zak per persoon per dag gebruikt, dat is ongeveer 2000 plastic zakjes per persoon per jaar. Dit is meer dan 10 keer zoveel als mensen in China en Europa uitstoten.
Maar gelukkig is er ook goed nieuws. Er zijn verschillende organisaties actief om de plastic vervuiling in Cambodja tegen te gaan.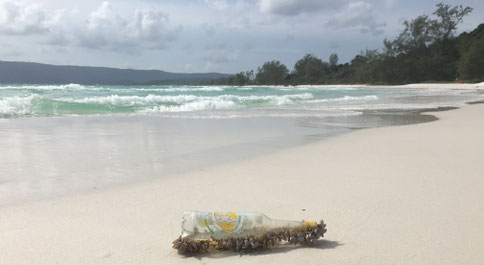 Naga Earth
Naga Earth is een non-profitorganisatie die vuilnis verandert in bruikbare producten. De organisatie haalt afval op bij bedrijven en haalt afval uit de natuur en recycled dit tot bruikbare producten. Ze maken onder andere biodiesel, handzeep en parasols. Hierdoor wordt het land vrij van vuilnis en worden er producten gemaakt die de Cambodjanen in het dagelijks leven kunnen gebruiken en/of verkopen.
Wil je meer informatie over Naga Earth of wil je helpen om de plastic vervuiling tegen te gaan? Kijk dan hier.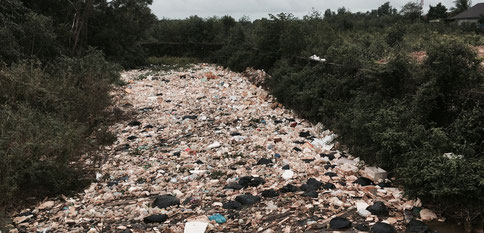 Friends of Koh Rong
Koh Rong is een tropisch eiland aan de zuidkust van Cambodja dat ook wel de afvoerput van Zuidoost-Azië wordt genoemd. Doordat het eiland precies in de golfstroom van Thailand en Vietnam ligt, spoelt veel van het afval aan op de stranden van Koh Rong.
Bun Te is de operation manager van Friends of Koh Rong en is samen met zijn organisatie actief om de kinderen op het eiland bewust te maken van het probleem dat plastic veroorzaakt. Elke zaterdag organiseert hij samen met de kinderen van het eiland een 'beach clean up' waar ze het strand met elkaar ontdoen van al het vuil.
Omdat de kinderen niet van hun ouders leren om het afval op te ruimen en er weinig faciliteiten zijn om het vuilnis kwijt te kunnen, organiseert Bun Te cursussen waar kinderen leren om van plastic bruikbare producten te maken, zoals plantenbakken en versieringen voor thuis.
Bun Te zorgt niet alleen dat de bevolking op het eiland bewust wordt gemaakt van het plastic probleem, maar hij zorgt er ook voor dat toeristen zich bewust worden van het onnodig gebruik van plastic. Zo verkoopt hij rietjes gemaakt van bamboe en spoort hij aan om minder gebruik te maken van plastic producten. Ook biedt hij een plek aan waar je je flesje kunt vullen, om het eenmalig gebruik van plastic flessen tegen te gaan. 
Om Bun Te te helpen Koh Rong plastic vrij te maken of om meer informatie te vinden over Friends of Koh Rong kun je hier een kijkje nemen.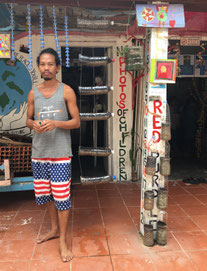 HUSK Cambodia
HUSK Cambodia is de eerste organisatie in Cambodja die gebouwen maakt van plastic, dat bottle buildings wordt genoemd. Deze gebouwen worden gemaakt van plastic flessen die gevuld worden met afval. HUSK Cambodia heeft al meer dan 100.000 plastic flessen gebruikt voor onder andere het bouwen van een ziekenhuis en schoolklassen.
Doneren aan HUSK Cambodia en meer informatie over de organisatie vind je hier.