We gebruiken palmolie dagelijks, maar wat is het precies en wat zijn de gevolgen? De productie van palmolie wordt steeds vaker bekritiseert, maar waarom eigenlijk? Voor de productie worden enorme stukken oerwoud gekapt of in brand gestoken. Als gevolg hiervan raakt de lokale bevolking hun leef- en werkgebied en verschillende (bedreigde) diersoorten hun leefgebied kwijt. In de afgelopen dertig jaar is de oppervlakte van palmolieplantages toegenomen van 4 naar 15 miljoen hectare (ter vergelijking: in Nederland is het landbouwoppervlakte 2 miljoen hectare). In dit artikel leggen we uit wat palmolie is en waarom het zo slecht is.
Wat is palmolie?
Palmolie is een bindmiddel dat wordt gewonnen uit de pulp van de oranjerode palmvrucht, die aan de oliepalm groeit. Dit gebeurt voornamelijk in Maleisië en Indonesië. Palmolie is relatief goedkoop en wordt daarom in veel voedingsmiddelen, verzorgingsproducten en biodiesel gebruikt. De boom komt van nature alleen voor in West-Afrika en kan alleen bestaan in de tropen. Tussen 1993 en 2003 is het oppervlak palmolieplantages in Indonesië met 300% gegroeid. Dit is ten koste gegaan van tropisch regenwoud, wat het leefgebied van de ernstig bedreigde orang-oetans, tijgers en andere wilde dieren is. In ongeveer 60% van onze etenswaren zit palmolie of palmvet. Nederland is binnen de Europese Unie de grootste importeur van palmolie en de vraag van Nederland naar palmolie neemt toe. Palmolie is een natuurproduct (en dus veganistisch), maar de teelt is niet milieu- en mensvriendelijk.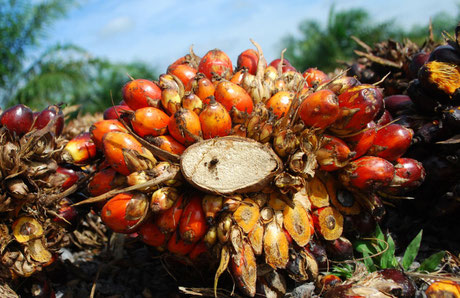 Waarom is palmolie slecht?
Het gebruik van palmolie is an sich niet het probleem. De opbrengst per hectare land is veel hoger dan voor andere plantaardige oliën. Echter zorgt de manier waarop palmolie gewonnen wordt tot grote problemen voor de levens- en arbeidsomstandigheden van de lokale bevolking en voor de biodiversiteit. Het grootste probleem is dat er grote stukken regenwoud verdwijnen om plaats te maken voor oliepalmen. Meer dan de helft van alle regenwouden in Indonesië zijn in de afgelopen jaren verdwenen en voor een extra 20% is al toestemming gegeven. Hieronder wordt per onderwerp aangegeven waarom de productie van palmolie slecht is.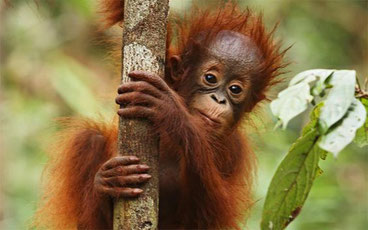 Ontbossing
Om plaats te maken voor de oliepalmen worden er bossen in brand gestoken, waarbij CO2 en fijnstof vrijkomt. Dit wordt versterkt door de veengrond die droogvalt. Mede hierdoor is Indonesië na de VS en China de derde producent van broeikasgassen in de wereld. Door het verdwijnen van het regenwoud neemt erosie toe, veranderen de neerslagpatronen en gaat het ecosysteem verloren. Daarnaast leiden de bosbranden regelmatig tot natuurrampen. Door de aangestoken oerwouden in 2015 op Sumatra zijn vermoedelijk 100.000 mensen gestorven en er is meer CO2 uitgestoten dan dat het Verenigd Koninkrijk in een jaar uitstoot. Door de ontbossing raken veel diersoorten hun leefgebied kwijt en veel mensen hun bron van inkomsten.
De resten van de uitgeperste palmvruchten worden regelmatig gedumpt in nabijgelegen rivieren. De vruchten gaan rotten en veroorzaken een zuurstoftekort, wat ervoor zorgt dat de vissen sterven. Hierdoor wordt de voedselvoorziening en inkomsten van de bevolking nog meer beperkt.
Bij de ontbossing ontstaan regelmatig conflicten tussen de lokale bevolking en de grote palmoliebedrijven, die vaak uitlopen op geweld. Daarnaast maken stropers gebruik van de ontbossing door dieren te vangen en deze te verkopen via de illegale markt.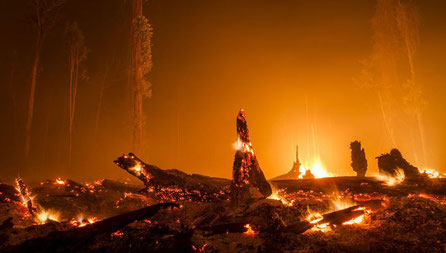 Werkomstandigheden
Het gebied waar de bevolking voorheen hun inkomsten vandaan haalde is weg, waardoor zij in veel gevallen worden gedwongen om op de palmolieplantages te werken. De werkomstandigheden zijn vaak schrijnend. De arbeiders worden blootgesteld aan giftige stoffen, vrouwen krijgen geen contract en veel arbeiders nemen hun kinderen mee om te helpen, om aan de hoge eisen te kunnen voldoen. De kinderen kunnen hierdoor niet naar school en worden op jonge leeftijd al zwaar fysiek belast. Uit een rapport van Amnesty International bleek dat palmolieproducent Wilmar zijn arbeiders dusdanig onder druk zet, dat ze vaak werken met lichamelijke klachten. Vrouwen worden niet uitbetaald wanneer zij overwerken en de arbeiders moeten zwaar werk verrichten op hun eigen slippers en zonder handschoenen en veiligheidsuitrusting.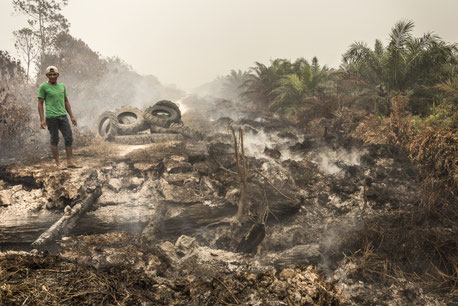 Foto: Victor Barro/Milieudefensie
Politieke en economische belangen
Doordat palmolie het grootste exportproduct van Indonesië is, zijn er grote politieke en economische belangen. Kleine boeren worden uitgekocht, weggejaagd of gedwongen om op zo'n plantage te werken. Zowel lokale als landelijke machthebbers hebben belang bij het financiële succes van de palmolie handel. Officieel is het afbranden van regenwoud illegaal, echter wordt er door de Indonesische overheid, afgezien van enkele arrestaties en veroordelingen, niet ingegrepen. Daarnaast is het erg gevaarlijk om actie te voeren en daarom gebeurt dit ook niet vaak.
Gezondheid
Palmolie is een bindmiddel van verzadigd vet, dat het risico op hart- en vaatziekten verhoogt. Zo bevat palmolie 48% verzadigde vetten en olijfolie 14%. Daarnaast zit de stof 3-MCPD in palmolie, wat schadelijk voor de nieren en kankerverwekkend kan zijn. Deze stof is in hoge concentraties gevonden in margarine, sauzen, koffiecreamers en bakkerswaren.
De organisatie SumOfUs heeft een petitie gestart om PepsiCo te laten stoppen met het ontbossen voor hun palmolie. Je kunt hier de petitie tekenen.
Lees volgende week in onze blog wat alternatieven zijn voor palmolie!