Wassen doen we wekelijks, maar wat voor impact heeft ons wasgedrag op het milieu? Kun je eigenlijk wel op een milieuvriendelijke manier wassen? Wij leggen in deze blog uit hoe je dit kunt doen. Wij geven onze klanten wasadvies en willen jou ook graag laten zien hoe je op een duurzame manier om kunt gaan met je kleding en gebruik kunt maken van je wasmachine en wasmiddel. Je was op een duurzame manier behandelen kan namelijk veel effect op het milieu hebben.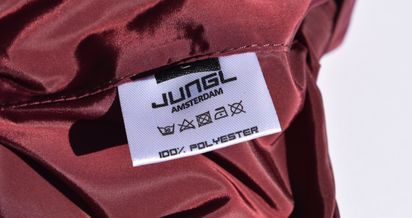 Wasmachine
Met een energiezuinige wasmachine valt al veel milieuwinst te behalen. Het best is een wasmachine met het energielabel A+++. Echter bestaan hier ook nog verschillen in energieverbruik en daarom is het belangrijk dat je naar het jaarverbruik in kWh kijkt. Het betekent niet dat je meteen je oude wasmachine in hoeft te ruilen voor een nieuwe, want lang gebruik maken van je apparatuur is ook een vorm van duurzaamheid. Maar mocht je een nieuwe wasmachine aanschaffen, kijk dan goed naar het energielabel. Hieronder hebben we verschillende tips op een rij gezet, om zo duurzaam mogelijk gebruik te maken van je wasmachine, ook als de machine niet het zuinigste energielabel heeft.
Eco-stand
Gebruik bij het wassen de eco-stand. Deze stand duurt langer, maar verbruikt veel minder energie. Wat veel mensen ook niet weten is dat het jaarverbruik op het energielabel is gebaseerd op de eco-programma's van 40 en 60 graden. Als je altijd de gewone wasprogramma's op 40 en 60 graden draait, zonder eco-stand, verbruik je 40% meer energie.
Drogen
De meest duurzame manier van het drogen van je was is natuurlijk het vermijden van de droger en de was zelf ophangen. Daarnaast beschadigt je kleding hierdoor ook minder.
Lage temperatuur
Was dat niet heel vies is, zoals de meeste kledingstukken, kun je makkelijk op 30 graden (of zelfs kouder) wassen. Het grootste deel van het energieverbruik van een wasmachine gaat naar het opwarmen van het water. Het is wel hygiënisch om handdoeken, vaatdoekjes en ondergoed op een hogere temperatuur te wassen. 
Waszak
Wanneer je je ondergoed in een waszak wast, beschadigt het minder tijdens het wassen en gaat het langer mee, wat ook een vorm van duurzaamheid is.
Donkere en lichte was gescheiden
Wanneer je donkere en lichte was gescheiden wast, blijven de kleuren van de kledingstukken langer mooi.
Azijn i.p.v. ontkalker
Gebruik azijn in plaats van ontkalker om je wasmachine te ontkalken. Ontkalker is slecht voor het milieu, maar het is wel goed om een wasmachine regelmatig te ontkalken. Door gebruik te maken van azijn, kun je ontkalker achterwege laten. Giet een fles schoonmaakazijn leeg in de wastrommel en draai hem (leeg) op kookwas of op 90 graden.
Volle was
Was pas wanneer de trommel van je wasmachine vol zit. Hierdoor hoef je minder vaak te wassen. Daarnaast hebben microplastics ook minder kans om vrij te komen bij een volle trommel.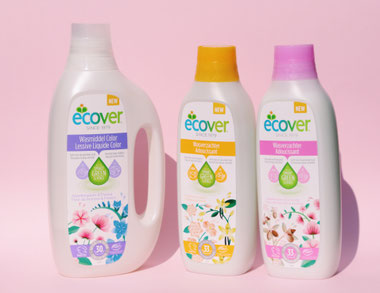 Wasmiddel
Naast het gebruik van de wasmachine, is er ook veel milieuwinst te behalen met het juiste gebruik van wasmiddel. Hieronder geven we een aantal tips over hoe je het best gebruik kunt maken van wasmiddel en welke merken wasmiddel milieuvriendelijk zijn. 
Vloeibaar i.p.v. poeder
Gebruik vloeibaar wasmiddel in plaats van waspoeder. Waspoeder heeft een soort scrub functie waardoor er vezels loskomen. Voor synthetische materialen (zoals polyester, acryl en fleece) vormt dit een probleem, omdat deze materialen microplastics loslaten.
Weinig wasmiddel
Je gebruikt al snel teveel wasmiddel. Kijk goed naar de aangegeven hoeveelheid op de verpakking en probeer ook eens of de was schoon wordt als je minder wasmiddel gebruikt dan staat aangegeven.
Geen/ecologische wasverzachter
Niet ecologische-wasverzachters bevatten allerlei chemische stofjes die schadelijk zijn voor het milieu. Daarnaast is het gebruik van wasverzachters niet noodzakelijk. Je was wordt bijvoorbeeld ook zacht wanneer je het ophangt in de wind. Wasverzachter hecht voor een klein deel aan je kleding, maar het grootste deel spoelt bij het wassen uiteindelijk weg met het afvalwater. Ecologische-wasverzachters (van bijvoorbeeld Ecover) bevatten daarentegen geen chemische stoffen. 
Ecologisch wasmiddel
Er zijn verschillende merken die ecologisch wasmiddel aanbieden. Hieronder leggen wij per merk uit hoe zij te werk gaan.
Ecover verkoopt biologisch afbreekbare wasmiddelen en wasverzachters. Het merk maakt alleen gebruik van biologisch afbreekbare en herbruikbare grondstoffen. Het is hun missie om het gebruik van palmolie fel te verminderen en uiteindelijk helemaal te elimineren. In hun nieuwe Ecover-wasverzachter gebruiken ze al duurzame raapzaadolie uit Frankrijk in plaats van palmolie. De producten van Ecover zijn vegan en niet getest op dieren. De flessen van Ecover zijn gemaakt van gerecycled en plant plastic. Ecover heeft ook een speciale ZERO lijn. Deze lijn is vrij van parfum en bevat geen kleurstoffen.
Seepje maakt natuurlijke wasproducten op basis van de Sapindus mukorossi vrucht uit de Himalaya. Zodra de schil van deze vrucht in aanraking komt met water maakt het een natuurlijke vorm van zeep aan. Seepje zorgt voor natuurbehoud en betere werk- en leefomstandigheden voor de schillenboeren in India en Nepal. Daarnaast hebben de mensen van hun sociale werkplaats een onmisbare rol in hun productieproces. Voor hun vloeibare producten gebruiken ze enkel natuurlijke parfums op basis van etherische oliën en plantenextracten. Op de site van Seepje.nl kun je alle ingrediënten van alle producten bekijken.
De wasmiddelen van Klok zijn gecertificeerd met het Europees Ecolabel en zijn vrij van parfum en kleurstof. Daarnaast zijn de wasmiddelen gecertificeerd door het allergie-keurmerk Astma Allergi Nordik. 
AH puur is zonder parfum, parabenen en kleurstoffen. De producten van AH Puur zijn gecertificeerd door het Eco-keurmerk Nordic Swan en door het allergie-keurmerk Astma Allergi Danmark.
Wasschillen/noten
Seepje verkoopt naast vloeibaar wasmiddel ook wasschillen en het merk Ecozone verkoopt wasnoten. Wanneer de schillen/noten in aanraking komen met water, komt er zeep vrij. Je stopt de schillen in het bijgeleverde waszakje en gooit ze in de trommel van de wasmachine. De schillen kunnen 3 keer worden gebruikt en hierna kun je ze in de tuin of bij het groene afval gooien.
Verpakking
Wasmiddel in poedervorm wordt verkocht in een vierkante doos. Dit zorgt ervoor dat er tijdens transport minder ruimte nodig is, want de dozen kunnen op elkaar gestapeld worden. Na gebruik kan de doos bij het oud papier. Bij plastic flessen van vloeibaar wasmiddel is dit niet mogelijk. Wel kunnen deze verpakkingen bij het plastic afval worden gegooid, om weer gerecycled te worden. Om afval te verminderen, kun je het best een grote verpakking kopen. Wastabletten zijn per stuk verpakt en kosten dus erg veel verpakkingsmateriaal.