Even goed je lichaam insmeren en dan de zee in duiken. Het lijkt een goed idee, maar wat we ons niet realiseren is dat de zonnebrandcrème in het water terechtkomt en zo de oceanen vervuilt. Elk jaar spoelt er zo'n 14.000 ton zonnebrandcrème de zee in. De chemicaliën die in zonnebrand zitten, vernietigen plankton en zijn giftig voor vissen. Daarnaast sterft op verschillende plekken in de wereld het koraal af. Tijd om hier verandering in te brengen en duurzame zonnebrand te gaan gebruiken! We leggen je uit waarom zonnebrand schadelijk is, welke ingrediënten je moet vermijden en wat goede alternatieven zijn. 
Het meest schadelijke ingrediënt: Oxybenzone
Terwijl wij ons goed beschermen tegen de zon, om bijvoorbeeld huidkanker tegen te gaan, is zonnebrandcrème extreem schadelijk voor het leven in de oceanen. De nanodeeltjes die in zonnebrand zitten worden in de kieuwen, lever, hart en hersenen van de vissen teruggevonden. Plankton en vissen sterven door deze deeltjes. Koraal sterft op verschillende plekken in de wereld af door de chemicaliën die in zonnebrandcrème zitten. De UV-filter Oxybenzone, die in veel zonnebrandcrèmes zit, belemmert de groei van koraal en tast het DNA en de herstelcapaciteit van het koraal aan. Daarnaast verergert deze stof het verbleken van het koraal en het activeert virussen in algen die op het koraal leven. De algen, die het koraal zuurstof, voeding en de prachtige kleuren geven, laten dan los en sterven. Met als gevolg dat het koraal verbleekt en uiteindelijk sterft. Wanneer koraal sterft heeft dit grote invloed op het leven in de oceaan. Dit is de reden dat Hawaï per 2021 alle zonnebrand verbiedt die een gevaar vormt voor het koraal. De schade van Oxybenzone op het koraal treedt al op bij minimale concentraties. Zo zorgt één druppel Oxybenzone in 6,5 olympische zwembaden al voor de dood van koraal en vissen. Oxybenzone wordt ook wel vermeld als Benzofenon-3 of bp-3. Oxybenzone is daarnaast ook schadelijk voor je huid.
Chemische en minerale UV-filters
Oxybenzone is een chemische/synthetische UV-filter, dat UV absorbeert en in de huid trekt, wat huidirritatie kan veroorzaken. Sommige chemische/synthetische UV-filters zijn hormoonverstorend en zelfs kankerverwekkend. Er bestaan ook minerale UV-filters, die minder schadelijk voor je huid en voor het milieu zijn. Voorbeelden hiervan zijn Zinkoxide en Titaniumdioxide. Deze vormen een laagje op je huid en blokkeren de UV-straling. Echter zijn deze ingrediënten niet bij voorbaat milieuvriendelijk. Je kunt beter kiezen voor de non-nano variant. Bij de non-nano variant zal er altijd een wit laagje op je huid blijven liggen, wat inhoudt dat de crème niet in je huid trekt. Dit is veiliger en beter voor je huid en het milieu. Bij de nano variant komen de deeltjes alsnog in de oceaan terecht, met alle gevolgen van dien. Wanneer de deeltjes minder dan 100 nanometer zijn, kunnen de crèmes worden opgenomen door koralen. Sommige zonnebrandcrèmes zijn bestempeld als 'Reef-save', wat inhoudt dat deze minerale Uv-filters bevatten als Zinkoxide en Titaniumdioxide en niet-nano zijn.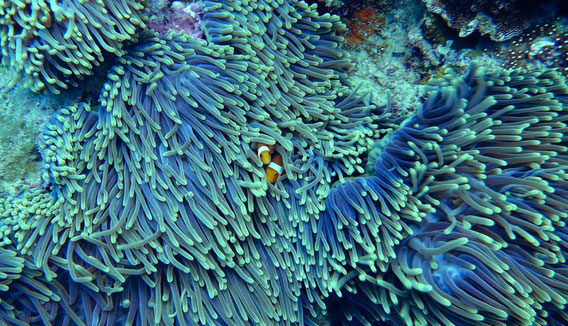 Overige oorzaken verbleekt koraal
Onderzoekers zijn het erover eens dat zonnebrandcrème niet de enige boosdoener is in het verbleken van koraal. De zee temperatuur die stijgt door het broeikaseffect en de plasticvervuiling dragen hier ook aan bij. Maar als individu heb je door de juiste zonnebrand te gebruiken veel invloed op het behoud van het koraal en het zeeleven. Het is een impact die we zelf als individu kunnen beheersen. Naast het kiezen voor milieuvriendelijke zonnebrandcrème die geen Oxybenzone bevat, is het ook belangrijk dat je het gebruik van zonnebrandcrème vermindert. Trek bijvoorbeeld een shirt (het best is een UV-beschermend shirt) aan tijdens het snorkelen of het sporten. Daarnaast is het gebruik van een zonnebrandcrème beter dan zonnebrandspray. Zonnebrandsprays blijven minder goed op de huid zitten en komen sneller in het water of op het zand terecht.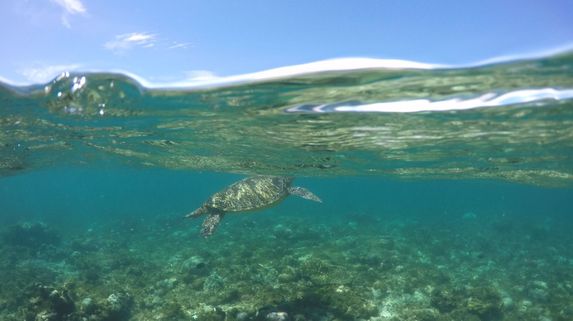 Andere schadelijke stoffen
Naast Oxybenzone zijn er een aantal andere stoffen die schadelijk voor het milieu en voor je huid zijn. Haereticus Environmental Lab heeft een lijst gepubliceerd met chemicaliën die je moet vermijden om het milieu niet te schaden.
Nanodeeltjes (zoals Zinkoxide en Titaniumdioxide)

Oxybenzone

4 MBC (4-Methylbenzylidine Camphor, Enzacamene)

Octinoxaat (Octinoxate of Octylmethoxycinnamaat)

Octocrylene

Para-aminobenzoic acid (PABA)

Elke vorm van microplastics

Methyl Paraben

Ethyl Paraben

Propyl Paraben

Butyl Paraben

Benzyl Paraben

Triclosan
Andere ingrediënten waar je op kunt letten zijn: alcohol, parfum, palmolie, eucalyptus en lavendel.
Verpakking
De meeste zonnebrandcrèmes zijn verpakt in plastic. Het Zweedse merk Suntribe verpakt haar zonnebrand in blik. De zonnebrand is 100% natuurlijk en bevat maar drie ingrediënten: kokosolie, bijenwas (dus niet vegan) en non-nano Zinkoxide. De zonnebrand van Raw Elements, die ook in blik wordt verkocht, is biologisch afbreekbaar en veilig voor koraal. Er zijn nog een aantal merken die plasticvrije zonnebrandcrème verkopen, maar deze zijn alleen in de VS te verkrijgen.
Natuurlijk
Naast de chemische stoffen die in veel zonnebrandcrèmes zitten, kun je kijken of een zonnebrand vegan en niet getest op dieren is. In de bovenstaande zonnebrandcrèmes die plasticvrij zijn, zit bijvoorbeeld bijenwas. Andere crèmes zijn wel vegan, maar bevatten bijvoorbeeld synthetische filters. Je moet dus in veel gevallen overwegen of je voor plasticvrij of vegan gaat.
Duurzame zonnebrandcrèmes:
We hebben een lijst met duurzame zonnebrandcrèmes gemaakt, zodat je makkelijker een duurzame keuze kunt maken.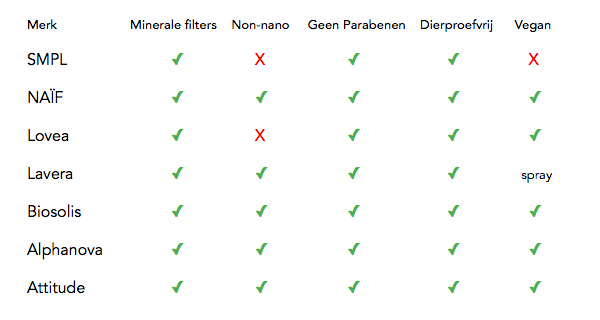 Tip: lees het etiket en check de ingrediënten. Claims als 'Eco-friendly' zijn niet altijd betrouwbaar en betekenen niet altijd dat de producten onschadelijk zijn voor het milieu.
Zonnebrand in Europa
Europa is veel strenger met het gebruik van Oxybenzone dan bijvoorbeeld Amerika. Zo zit deze stof nog wel in het merk Vision, maar de meeste grote merken als Niveau, Vichy en Ambre Solaire gebruiken deze stof niet meer. Daarentegen kunnen we deze merken niet als duurzaam en/of milieuvriendelijk beschouwen, want er zitten nog veel andere chemische stoffen in hun producten, die schadelijk zijn voor het leven in de oceanen. Zo zit er in de zonnebrand van Ambre Solaire polyester. Je moet dus echt op zoek gaan naar zonnebrand die als Uv-filter Zinkoxide of Titaniumdioxide gebruikt en non-nano zijn.