Asperges in januari en aardbeien in december, ingevlogen groente en fruit belasten het milieu enorm. Wil je echt duurzaam eten? Eet dan geen dierlijke producten, maar fruit- en seizoensgroente uit het land waar je woont. Het is deze week World Meat Free Week en daarom willen we jou tips geven over hoe je op natuurlijke wijze duurzaam kunt eten. De mate van duurzaamheid van groente en fruit is sterk seizoensgebonden. Zo kun je bijvoorbeeld aardbeien beter in juni eten dan in december. Maar hoe zit het eigenlijk met andere soorten groente en fruit? Wij hebben een lijst voor je opgesteld met welke soorten groente en fruit je het beste in juni en juli kunt eten en welke beter niet, zodat jij makkelijk een duurzame keuze kunt maken in deze zomermaanden. De genoemde groente- en fruitsoorten worden in Nederland geteeld.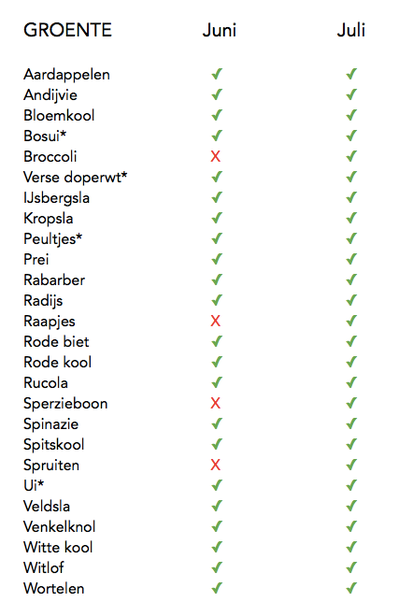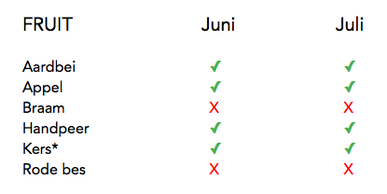 * :
Check goed uit welk land je product komt. Bosuien uit Nederland zijn bijvoorbeeld bijna niet belastend voor het milieu, maar bosuien uit Mexico zijn juist heel milieubelastend. De producten waar een * achterstaat, zijn alleen duurzaam wanneer deze uit Nederland komen.
Er wordt niet veel fruit in Nederland geteeld en daarom zijn we vaak genoodzaakt om fruit uit het buitenland te eten. Dit is qua transport niet duurzaam. Toch willen we je laten zien welke fruitsoort je het best kan kiezen, wanneer je voor een buitenlandse fruitsoort kiest. In onderstaande lijst staan verschillende buitenlandse fruitsoorten, die in juni en juli redelijk duurzaam zijn om te eten. Dit komt doordat het in de desbetreffende landen een seizoens groente of fruit is.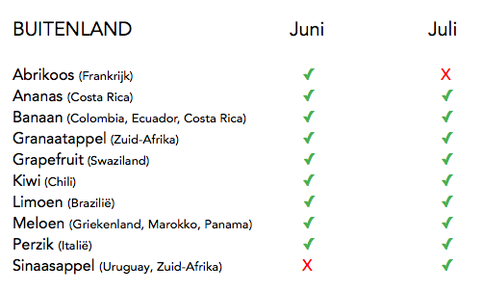 Echter is de mate van duurzaamheid ook afhankelijk van de manier waarop groente en fruit wordt geteeld. Zo worden sommige groente- en fruitsoorten in een kas geteeld en sommige buiten op een akker. Daarnaast is er ook nog een verschil tussen biologische en niet-biologische groente en fruit.
Bij akkerbouw en tuinbouw worden bijvoorbeeld aardappelen, granen, uien, peulvruchten, winterpeen en kool verbouwd. Dit gebeurt buiten op de akker en niet in een kas. Door het vermijden van synthetische bestrijdingsmiddelen en het gebruik van bepaalde plantenrassen, wisselteelt en natuurlijke vijanden (insecten) om ziektes en plagen tegen te gaan, zorgt de biologische akkerbouwer ervoor dat het landschap van betere kwaliteit is, dat er meer biodiversiteit is en dat de bodemkwaliteit goed is. De niet biologische akkerbouw maakt wel gebruik van synthetische bestrijdingsmiddelen.
De teelt in kassen kost bij zowel biologische als niet-biologische teelt veel energie. Voorbeelden van groente die in een kas worden geteeld zijn komkommer, tomaat, paprika, courgette en aubergine. Per kilo product kost de teelt van kasgroenten tot 10 keer zoveel energie als die van groente dat verbouwd wordt op de akker. In biologische kassen worden geen synthetische bestrijdingsmiddelen gebruikt, terwijl dit in de niet-biologische kassen wel is toegestaan en wordt gebruikt.
Wij hopen dat je een beetje wijzer bent geworden en nu makkelijker een duurzame keuze kunt maken in de supermarkt of op de markt.
Tot volgende week!