Rond of vierkant? Goud of groen? Zonnebrillen zijn er in alle soorten en maten. Maar wist je dat veel zonnebrillen gemaakt worden van materialen die belastend zijn voor het milieu? Gelukkig worden er tegenwoordig steeds meer duurzame en eerlijke zonnebrillen ontworpen. Maar wanneer is een zonnebril eigenlijk duurzaam of eerlijk? En waarom? Wij zochten het uit bij de volgende merken!
Het motto van het Belgische zonnebrillenmerk W.R Yuma is: "het is geen verspilling totdat het verspild is". De zonnebrillen worden gemaakt met een 3D printer en zijn gemaakt van verschillende gerecyclede materialen. Zo worden de zwarte frames gemaakt van gerecyclede dashboards van auto's en worden de transparante frames voor 90% gemaakt van gerecyclede plastic flessen. Zelfs de inkt in de binnenkant van de zonnebril is gemaakt van gerecyclede koelkasten. Omdat de 3D printer precies de juiste hoeveelheid materiaal gebruikt, wordt er tijdens het productieproces geen materiaal verspild. Daarnaast zijn de brillenhoesjes gemaakt van gerecyclede kurk en de schoonmaakdoekjes van gerecycled PET-plastic. De brillen worden met de hand in elkaar gezet en zijn zo ontworpen, dat ze snel uit elkaar kunnen worden gehaald om te recyclen. Het merk houdt geen voorraad en begint pas met produceren, wanneer er een bestelling is geplaatst.
De zonnebrillen kosten €95,00.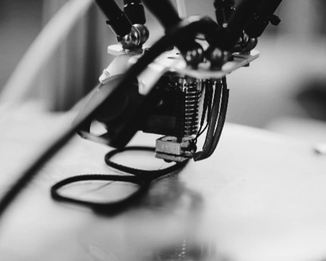 Foto: productieproces W.R. Yuma
De zonnebrillen van het Amsterdamse merk Gobi worden gemaakt van 100% biologisch afbreekbaar acetaat, dat gemaakt is van katoen en houtpulp. Zelfs de brillenkoker is gemaakt van gerecycled papier! De zonnebrillen zijn niet alleen duurzaam, maar worden ook gemaakt onder eerlijke omstandigheden in een kleine fabriek. Elk model is handgemaakt in een proces van 25 stappen, dat meer dan 2,5 maand in beslag neemt.
De zonnebrillen kosten tussen de €99,00 en €129,00.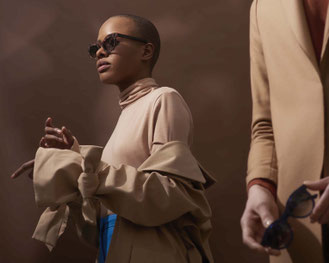 Bij het Oostenrijkse brillenmerk Neubau staat duurzaamheid centraal. De frames van de brillen worden gemaakt van NaturalPX, dat milieuvriendelijk polymeer is. Dit bestaat voor 65% uit de olie dat gewonnen wordt uit de zaden van de ricinusolieplant. Het materiaal is licht in gewicht, flexibel en stevig. De hoesjes van de brillen zijn gemaakt van Cellulose, waarbij geen gebruik wordt gemaakt van lijm. Hierdoor is de hoes gemakkelijk recyclebaar. Daarnaast is het brillendoekje gemaakt van gerecyclede plastic flessen en is alles is verpakt in recyclebaar papier. Ook al het marketingmateriaal dat het merk gebruikt, is duurzaam.
De zonnebrillen kosten tussen de €149,00 en €279,00.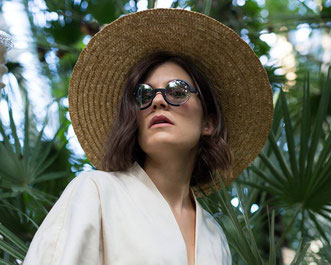 Proof Eyewear maakt alleen gebruik van duurzame materialen waaronder FSC-gecertificeerd hout, cotton-based acetate en oude skateboard decks. Ook hanteert Proof een Do Good Programma waarin ze met non-profit organisaties samenwerken om een steentje bij te dragen aan de samenleving. Het merk biedt vier collecties aan en elke collectie steunt een ander project. Het merk is Amerikaans, maar heeft ook een Nederlandse webshop.
De zonnebrillen kosten tussen de 115 en 145 euro.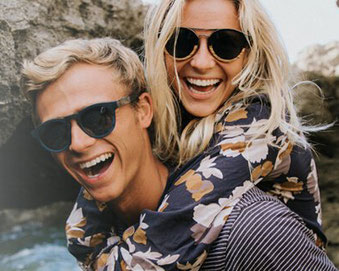 Het merk Komono heeft een duurzame zonnebrillenlijn gelanceerd. De brillen uit de NEUTRØ series van Komono hebben biolenzen en een duurzaam frame. Komono werkt samen met het Nederlandse wetenschappelijke bedrijf DSM Engineering Plastics. De ontwerpen van de zonnebrillen zijn gebaseerd op EcoPaXX®, een product dat afgeleid is van de duurzame ricinusboon. Deze ricinusbonen worden in India geteeld en concurreren niet met de voedselvoorzieningsketen. Dit omdat ze niet voor menselijke en dierlijke consumptie zijn. Bovendien is het een stroom van inkomsten voor lokale boeren. Het materiaal is erg flexibel, waardoor de zonnebril minder snel stuk zal gaan, wat ook een vorm van duurzaamheid is.
De zonnebrillen kosten €59,95.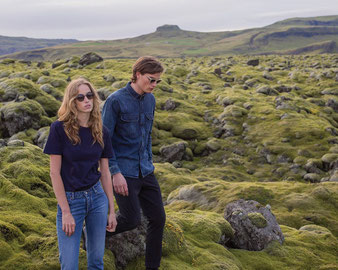 Ben je uitgekeken op je zonnebril? Hoog in de Himalaya en in de Andes liggen dorpjes waar mensen tentoon worden gesteld aan sterke UV-straling van de zon. Ongeveer 80% van deze mensen lijdt aan oogkwalen. Zij kunnen jouw oude zonnebril goed gebruiken. Shades of Love verzamelt wereldwijd gebruikte zonnebrillen en geven de brillen aan deze mensen. Tot nu toe heeft de organisatie al meer dan 100.000 mensen geholpen. Momenteel is de steun aan deze organisatie zo groot, dat de inzameling is stopgezet, totdat alle zonnebrillen uitgezocht en uitgedeeld zijn. Maar dit is de perfecte oplossing in de toekomst, wanneer je uitgekeken bent op je zonnebril en deze een nieuw leven wil geven.